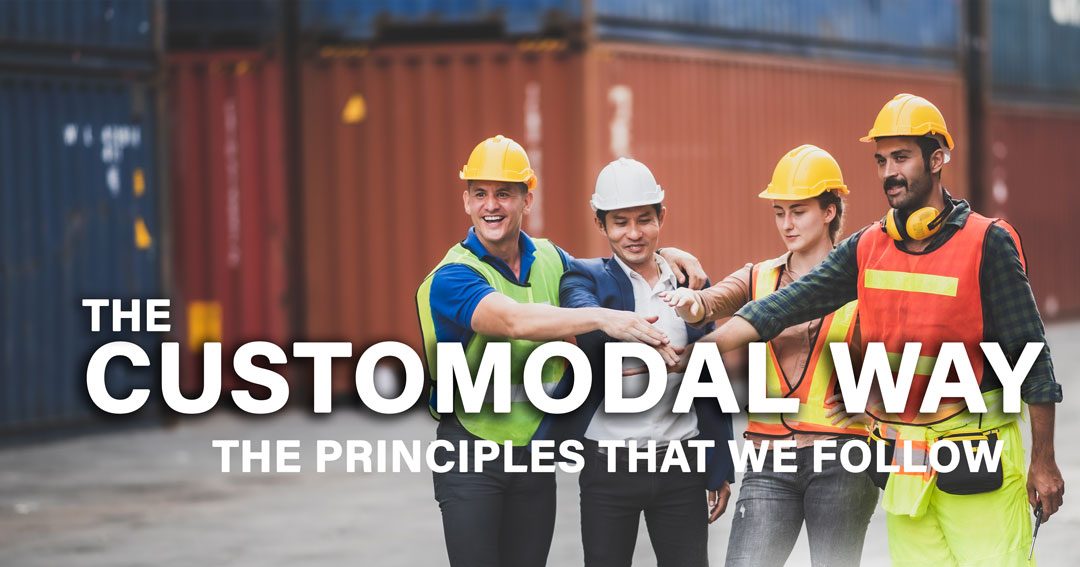 October 14, 2021
Our Secret to Shipping Success: The Customodal Way
[et_pb_section fb_built="1″ admin_label="section" _builder_version="3.22″][et_pb_row admin_label="row" _builder_version="3.25″ background_size="initial" background_position="top_left" background_repeat="repeat"][et_pb_column type="4_4″ _builder_version="3.25″ custom_padding="|||" custom_padding__hover="|||"][et_pb_text admin_label="Text" _builder_version="4.9.10″ background_size="initial" background_position="top_left" background_repeat="repeat" hover_enabled="0″ sticky_enabled="0″]
The Customodal Way and Why We're the Best Logistics Provider for Mid-market Manufacturers
The Secret to Customodal's Success: Obsess over the Client – Providing solutions to our Clients' and Carriers' problems is the lifeblood of our business, and the essence of our service excellence is our relationship with each Client and Carrier. The Customodal Way involves constantly identifying market problems so that we know exactly what kinds of solutions our Clients and Carriers will value most. We go above and beyond by creating positive emotional experiences between our Clients, our Carriers, and our Staff.

The Customodal Way is a dozen principles every team-member lives. These principles push our team to succeed and drive our reputation as the best logistics provider for mid-market manufacturers. Collectively the 12 values that make up the Customodal Way represent The Secret Sauce or How We Obsess over the Client.
Deliver on Commitments – Clients trust us to execute for them. Our team will overcome obstacles, find solutions and deliver exceptional results. Relentlessly delivering high-quality experiences while putting the client at the center of everything we do.
Credibility and Integrity – We're honest, transparent and committed to what's best for our customers and our company. We openly collaborate in pursuit of truth. We have no tolerance for politics, hidden agendas or passive-aggressive behavior.
Develop Radical Competence – Our culture of continuous improvement and personal development drive personal growth and expertise. As a company we combine smart people with data to enable informed decision making. This guides decisions, testing, and improvement. Mistakes are OK as long as learning and improvement occur.
Take Responsibility – We hold ourselves accountable for outcomes, good and bad. We don't pass the buck. We own it.
It's About the Team – Customodal is made up of amazing individuals, but it's only through teamwork that we achieve greatness. We show up for each other, act with empathy, and bring our authentic selves to work each day
Play the Long Game – We ensure that each of our actions is in the best interests of our team, our company and our clients
Over Communicate – We communicate directly with respect and consideration, share feedback at all levels, and engage in debate while maintaining our objectivity
Do it Now Attitude – We move fast, tackling challenges without delay. If we see an issue, we fix it. If we see an opportunity to accelerate success, we take it.
Openness – Opening our minds and combining our different backgrounds, experiences, world views and expertise makes us savvier problem solvers and drives better results. We actively engage with ideas that challenge our beliefs with humility and respect
Embrace Change – We seek out, embrace, and get (un)comfortable in knowing that if we're not continuously changing, evolving, and improving—we're falling behind.
Collaboration – We carry the load together by building purposeful relationships grounded in cooperation and a shared vision.
Compete, Compete, Compete – We are relentless in our pursuit of major victories and humble in our successes
Contact Customodal today to learn more!

[/et_pb_text][/et_pb_column][/et_pb_row][/et_pb_section]