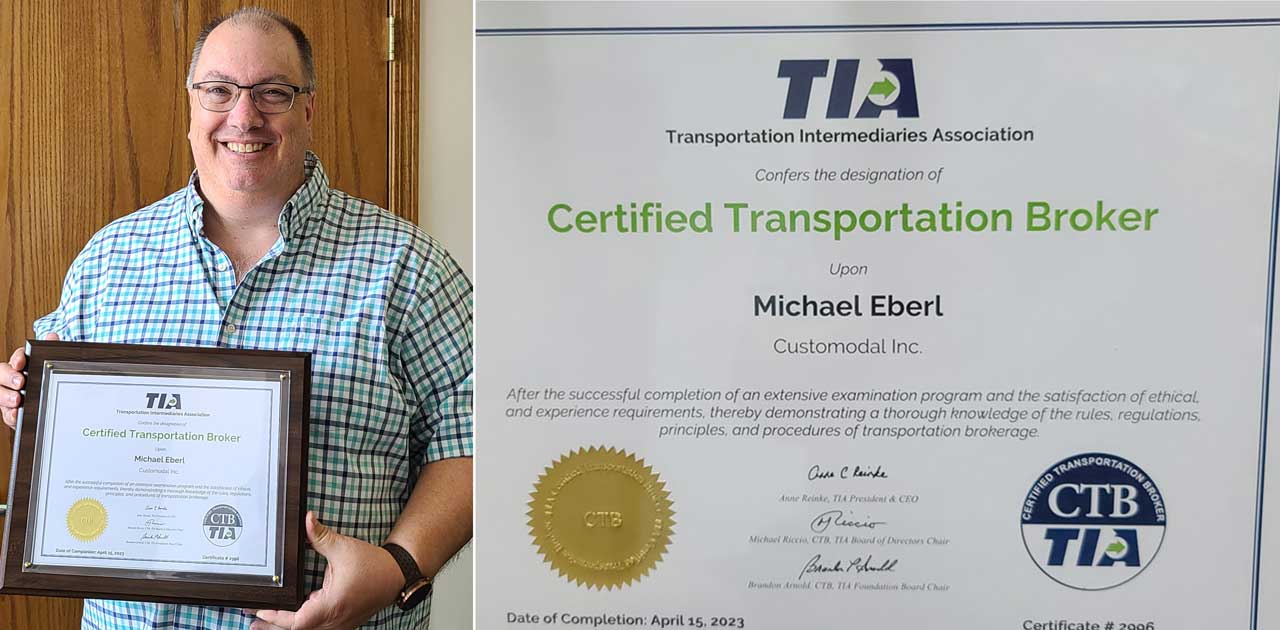 May 15, 2023
Customodal CEO Mike Eberl Achieves Certified Transportation Broker (CTB) Designation
The Certified Transportation Broker (CTB) designation is the third-party logistics industry's most widely recognized designation and is earned after a rigorous four-month course and comprehensive examination. Mike Eberl, CEO of Customodal based in Marshfield, recently became a CTB, along with 41 other professionals.
"This designation is designed for transportation brokers who want to enhance their knowledge, skills, and credibility in the industry," said Eberl. "At Customodal, we offer a complete package of transportation solutions designed to cut costs, expedite solutions and simplify operations for our customers. This designation is just one more way we aim to stand out above the rest."
To earn the CTB designation, candidates must pass a comprehensive exam that covers a wide range of topics related to transportation brokerage, including freight logistics, carrier selection, legal and regulatory compliance, risk management, and financial management.
The exam for this designation is a 3-part exam and participants have to pass each of the 3 parts to earn the designation. The exam consists of multiple-choice questions and takes approximately four hours to complete. To be eligible to take the exam, candidates must have at least one year of experience as a transportation broker or have completed a TIA-approved course in transportation brokerage.
"We are so proud of our 42 CTB graduates. The exam is a challenging one, and these professionals showcased their industry knowledge and expertise," said Anne Reinke, TIA President & CEO. "They are a credit to the TIA as well as to their own employers and are a testament to how committed our membership is to lifetime learning."
The CTB designation is recognized as a mark of excellence in the transportation industry, and it is a valuable credential for transportation brokers who want to demonstrate their expertise and professionalism to clients and colleagues. The designation is valid for three years, and CTB holders must complete ongoing education requirements to maintain their certification.
To learn more, visit www.Customodal.com