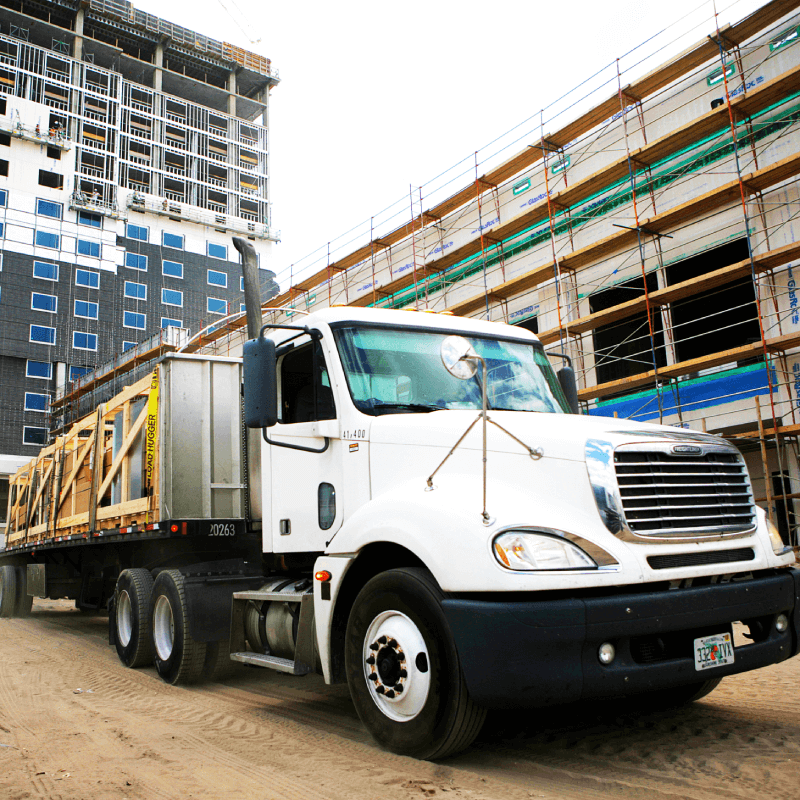 May 26, 2020
Freight Broker vs. Freight Broker Agent: What's the Difference?
[et_pb_section fb_built="1″ admin_label="section" _builder_version="3.22″][et_pb_row admin_label="row" _builder_version="3.25″ background_size="initial" background_position="top_left" background_repeat="repeat"][et_pb_column type="4_4″ _builder_version="3.25″ custom_padding="|||" custom_padding__hover="|||"][et_pb_text admin_label="Text" _builder_version="4.9.10″ background_size="initial" background_position="top_left" background_repeat="repeat" hover_enabled="0″ sticky_enabled="0″]The world of logistics is complex. Getting things from point A to point B entails a lot of working pieces. Many businesses choose to manage their supply chain via 3PL, or Third Party Logistics providers. These companies are outsource options to help manage inbound materials, warehousing, product distribution, and fulfillment. 3PLs employ freight brokers and freight broker agents to help manage this.

So, what's the difference between a freight broker and a freight broker agent? In a nutshell, the freight broker is the individual or company that oversees the logistics of effective shipping and handling. The freight broker agent is an individual that works for the freight broker or freight brokerage company. 
Part of what 3PLs have to offer is freight brokering or managing the transport of goods from shipper to buyer. Freight brokers and freight broker agents are both integral parts of the world we live in, which relies so heavily on shipping. How is it that you can have something arrive at your home from hundreds of miles away, within a short 48 hours, after just a few clicks?
Inside the World of Freight Brokering
This shipping industry is mind-boggling when you think about it. The way you get your goods quickly and seamlessly is often the work of a freight broker and a freight broker agent. Let's figure out the responsibilities of each, and how they're different, so we can see who exactly is behind the world of efficient shipping…and getting you those must-have necessities so fast. 
What is a Freight Broker?
Picture the freight broker as the meat of the shipping sandwich. On one side, there's a company that's shipping products. On the other, there's a buyer that's submitting an order or making a large purchase for a store. In between, there's a company that's doing all of the thinking and making it all happen… that's the freight broker. 
There are lots of freight brokerage companies available, and they all have their strengths and weaknesses. However, they all share the fact that they specialize in overseeing the shipment of products.
Role Players
In the shipping and freight brokering world, there are a few important roles that need to be efficiently manned, in order to make sure that the job is done right. While it might seem like it's an easy process, there are actually quite a few hands that products pass through. Here are the major ones:
Motor Carrier
These are the companies with the big rig trucks that are actually responsible for moving the products. 
Companies that have trucks that transport their own cargo are considered private motor carriers
Companies that own trucks that can be contracted out to transport shipments fall under the for-hire motor carriers' category
Agricultural Truck Broker 
Typically, these are trucking companies that run in a specific region of the country and don't venture out of that one area. Agricultural truck brokers find motor carriers that will transport agricultural products, such as livestock or produce. 
Freight Broker Agents
This is the person that puts the company in need of a shipper in touch with another company, particularly a motor carrier, that will do the actual shipping. We'll discuss freight brokers a little more in-depth down the road.
Freight Forwarder
Although these are often viewed as similar to freight broker agents, their role is actually very different. Freight forwarders are responsible for managing outside shipments from various places, then consolidating them into a bigger shipment. Freight forwarders often use a few different shipping methods, including a combination of:
Land Carriers (trucking, trains, cargo vans, etc.)

Air Carriers

Water Carriers
Import-Export Broker or Customs Broker
This particular aspect of freight brokering is important when shipping across international borders. An import-export broker must have extensive knowledge of national and international laws concerning shipping and receiving products. 
These people must work closely with customs, along with other government agencies that might have an interest in some shipments. They must also maintain strong relationships with various companies that are frequent fliers in the import-export world. 
Shipper
Either an individual person or a business is considered the shipper. As long as the party involved has products to move, they'll hold the shipper label. 
Shipper's Associations
A particular group of shippers that operates only with service to their members is known as a shipper's association. Shippers create these and operate as nonprofit organizations, only serving the members of the association. 

How Freight Brokers Work
Freight brokerage companies are essentially the middleman. They maintain contact with both the shipper and the transportation company in order to make sure that things are getting where they need to be while being cost-effective and timely. Here are some of the key points in how freight brokers work:
Freight brokers find compatible shippers  to work with motor carriers and transportation companies that can help them ship their products. 

Communicate on behalf of both sides of the operation, the shippers and the carriers, to negotiate a price to get the job done and the products shipped. 

Help motor carriers and transportation companies find clients to haul for, but at the same time, making a profit. 

Helping shippers and transportation companies troubleshoot when there's a shipment that's been damaged or gotten lost.

Manage accounts responsible for billing both shippers and the transportation companies, which often includes playing mediator between the two when there are questions or complaints. 

Oversee and manage the shipping, making changes, and adapting various parts of the contract to help products get from point A to point B safely and on time. 

Monitoring and keeping track of cargo as it's being shipped.
A relationship between the shipper and transportation company is important in freight brokering and must work both ways. Freight brokers must be able to work on behalf of the shippers and transportation companies in order to effectively maximize the shipping process. 
How Much do Freight Brokers Make?
Most freight brokers are paid on commission, which is determined by the loads that they broker. Depending on the companies that the freight broker is working for, the commission can be anywhere from 8% to 45%. 
There's quite a range when it comes to salaries of freight brokers. This is because it's so largely dependent upon how many loads a freight broker is able to sell. Recently, the average salary of a freight broker was anywhere from $30,000 to $80,000 a year, with the average being right about $42,000.
It's also worth mentioning that there are truck owners that are also freight brokers. Those that own trucking companies are able to be licensed as freight brokers and can work to broker their own shipping deals. 
What is a Freight Broker Agent?
Now that we know the freight broker as the company servicing both shippers and transportation companies, we can dive a little deeper into what exactly a freight broker agent does. 
The freight broker agent works on behalf of the freight broker, checking all of the boxes to ensure that the freight brokers' clients are being served as best they can. Most of the time, freight broker agents are each responsible for a specific group of shippers and transportation companies, so they're able to oversee at a closer level.
How is a Freight Broker Agent Different from a Freight Broker?
They two aren't different, per se. But they do observe different positions in the shipping and freight industry. 
While the freight broker is the overall agency that's managing the logistics, the freight broker agent is the person that's serving as the go-between, communicating with both sides of the shipping equation.
Picture a department store as the freight broker, with each department manager as the freight broker agents. Each department manager is responsible for the employees and products within their department. 
The products in the store must be properly cared for and displayed, just like the products being shipped must be monitored and tracked. But then the freight broker agents are responsible for the relationships between shippers and transporters on a closer level, kind of like the department store managers are in charge of their employees and products on behalf of the store. 
When to Use a Freight Broker
All of this might have you wondering whether or not you, as a shipper or transporter, should consider using a freight broker. There are a few things to consider in determining whether or not you should use a freight broker.
You're Interested in Being More Cost-Efficient
For the most part, those that create, and ship products aren't experts in shipping. Therefore, they're not familiar with the ins and outs, as well as the nuances that are part of the shipping world. 
To make your shipping practices more cost-efficient and spend less money where you don't need to, a freight broker can help. They're specialized in shipping and have a vast knowledge of how to get things where they need to go in as few stops as possible while maximizing different transportation options. 
Not to mention, if you're focused on your product, there's probably not a lot of room left for figuring out all the math that goes into shipping logistics. The cost, the mapping… all of it can be enough to cause smoke to pour out of your ears. Unless, of course, you're a freight broker or a freight broker agent. Then, it's just what you do. 
So, if you'd rather spend more time on your products, or on the other side, you'd like to spend less time on finding companies to ship for, then hiring a freight broker would be very helpful. And, in the end, it can help you save money that you can spend elsewhere. 

You Haven't Developed a Shipping System
If you're a smaller company that's just starting out, or you've grown a little bigger than you're able to manage, then hiring a freight broker could be helpful. When you find yourself needing to ship more products than you're able to handle, letting a shipping expert come in, and help is a great plan.
This is also the same if you're a motor carrier or transportation company. If you feel like your trucks or other vehicles aren't being used as effectively as they could be, then a freight broker would be very beneficial. 
You Just Need Help
Let's be honest; it takes a special set of skills to be able to manage the logistics of shipping. The number of things that need consideration is slightly overwhelming when you think about it…
Fuel cost

Travel distance

Shipping weight

Employee's salary

Vehicle and machine maintenance costs

Shipping supplies

Rules and regulations
These are just a few of the pieces of the shipping puzzle. Whether you're a shipper or a transportation company, this is still a lot to factor in. 
A freight broker or freight broker agent is capable of factoring in the time and money spent on each of these and can help you figure out the path of least resistance when it comes to shipping or transporting. 
How to Become a Freight Broker or Freight Broker Agent
Both careers can be quite lucrative, depending on your knowledge of logistics, as well as your sales ability. Successful freight brokers and freight broker agents are able to develop relationships with shippers and transportation companies alike. To become a freight broker, these are the steps that might be helpful.
Learn the Ropes
Much of what you'll need to know is learned through hands-on experience within the freight brokering business. An introductory position at a freight brokering company is a great place to learn the ways of the world, so to speak. 
Practice Your Math Facts
There's quite a bit of math involved in logistics. As we previously mentioned, fuel costs, mileage, and shipping weight are just a few components that will require math. Your elementary school teachers were right when they said you'd use math every day… if you choose to become a freight broker. 
Find Your Inner People Person
This is easier for those that are naturally extroverts. But, fear not, even if you're not outgoing, you can still be a successful freight broker. Because so much of the success is contingent upon communication and sales, it's important to be able to communicate effectively.
This doesn't mean you have to be loud and proud with every conversation. But, being a pleasant and effective communicator does make both shipping clients and transportation company clients feel more comfortable, which will create great customer relations. 
Freight Broker Training
There are a number of freight broker training courses available. These can help you fill in the gaps for what you picked up from working with other freight brokers, as well as answer questions that you've thought of along the way. 
Freight broker training also provides guidance for the steps that you'll need to go through in order to become a licensed freight broker. Classes also put you in touch with other students and licensed freight brokers that can help you as you navigate through the training, as well as afterwards. It's also great networking. 
Build Relationships
While you're working with a freight broker, you'll be able to learn what works in developing relationships with clients, both shippers, and transportation companies. If you become a freight broker at the same company, these brokers might even recommend you work with new clients.
It's also helpful to learn what makes good clients, and which ones to avoid. Reliability and consistency are both important qualities in clients, so you'll want to look for these while you're building relationships. 
Get Your License
There are plenty of rules and regulations that need to be followed as a freight broker. In addition to these guidelines, there are also a lot of laws regarding shipping. However, if you've been listening and learning along the way, these will be ingrained in your mind. 
Now is the time to get your freight broker license from the FMCSA, or Federal Motor Carrier Safety Administration. Also known as Motor Carrier Operating Authority. You'll need to get licensed before you can practice as a freight broker. There's an application to fill out and a fee.
Obtain a Freight Broker Bond
This is a surety bond that will fund your startup as a broker. The interest rate at which you'll have to repay the bond depends on your credit score. The amount required is $75,000, which ensures that freight brokers meet the standards set by the industry. 
Get to Work
Now that you know all the things, and you're licensed, you're ready to go. Hopefully, some of the networking you've done along the way will help land you a job as a freight broker, or perhaps you'll be asked to stay on with the company that you started with. 
While it might be a little tricky in the beginning as you're building a client base, don't get discouraged. Many freight brokers and freight broker agents note that it does take a little time to get into the swing of things. But, maintaining a positive attitude will keep clients coming back, which will give you the momentum you need to be successful.

[/et_pb_text][/et_pb_column][/et_pb_row][/et_pb_section]