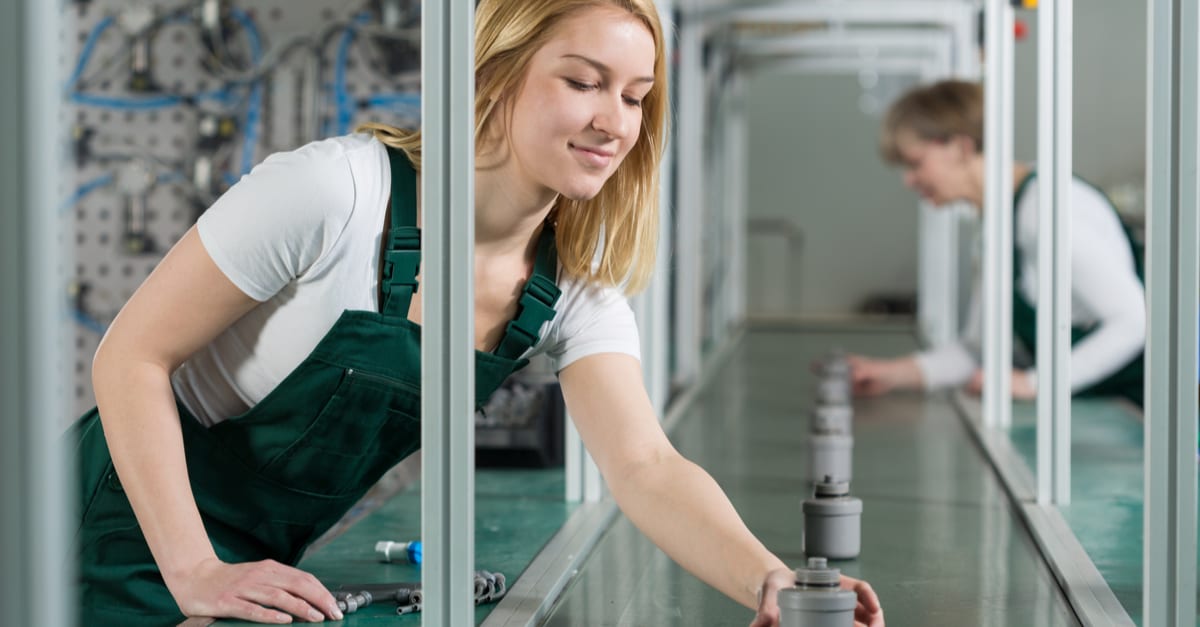 May 27, 2020
What Does A Logistics Manager Do – And Can They Help Your Business?
Your new business is starting to take off, and everyone keeps suggesting that you get a logistics manager. But what exactly is a logistics manager, and how are they going to help your already exploding business?
What do logistic managers do? Logistic managers are in charge of overseeing the purchasing and distribution of products in a supply chain. They are the key to customers getting their products in an efficient and timely manner. It is the logistics manager who plans both the best way to transport materials into the company and the best way to transport products to customers. Logistic managers are also responsible for managing the warehousing and storing of products and materials.
To determine what a logistics manager can do for you and your business, it's important to understand all the things they are responsible for and how they are able to help your company improve its product flow. Here's a hint: deciding whether or not to hire a logistics manager can make or break your customer service.
The Working Environment of a Logistics Manager
Where does a logistic manager work? Most logistic managers work in warehouses. Their duties focus on inventory and coordinating shipping and receiving, so the warehouse is the hub of their duties. A logistics manager's responsibilities are so varied, though, that it is not uncommon for them to spend a lot of time off-site, maintaining business relationships with clients and partners.
A logistics manager works a normal workday, but it is not uncommon for them to put in extra hours at home going over reports or making sure that schedules are set and that timelines are going to be met.
The Duties Of A Logistic Manager
There are several important duties that a logistics manager is responsible for in any given company. Once you understand what those duties are, you can better determine what they can do to help your company improve. A typical logistic manager is responsible for the following.
Shipping and Receiving
The main duty of a Logistic Manager is managing the shipping department of a company. This means that they must work with and have a strong knowledge of:
Truck Drivers

: Whether the drivers are employees of the company or vendors the company works with, the logistics manager needs to be able to work with drivers to get needed materials and product shipped out.

Shipping Routes

: A good logistic manager will know the shipping routes his truck drivers use so they can ensure that your product is getting where it needs to go in the most efficient way possible.

Fluctuating Prices

: Logistics costs often go up and down from month to month or season to season. A logistics manager will keep up with these prices and make changes to ensure your company is making the best use of its money and resources, keeping to a tight budget.

Shipping Rates

: Shipping rates also tend to fluctuate as the seasons change, and gas prices move up or down. A good logistics manager will always be shopping for the best price and route for your product. 

DOT and OSHA standards

: The Department of Transportation and The Occupational Safety and Health Administration both have standards that need to be met by your company. It is the logistics manager's job to know these standards and make sure your company is in compliance. 
Supply Chains
The logistic manager may run the supply chain of your company. These activities include running teams for both inbound and outbound transportation of materials or products that require coordination with outside service providers.
The logistics manager should be meeting with lower-level managers of inbound and outbound materials about transportation contracts, systems, networks, and service levels to make sure everything is as smooth as possible. A good logistic manager will be able to help the managers develop creative solutions for any problems that arise in these areas.
To keep supply chains efficient and on budget, it is important that a logistics manager be able to manage relationships with service providers and coordinate with vendors to improve overall supply chain flows and delivery schedules. This may require innovative delivery processes at times. 
It is up to the logistics manager to establish, monitor, and adjust key performance metrics to ensure that supply chains remain intact and under budget.
Distribution Center
The logistics manager oversees employees that work in the distribution center. This includes employees who work with picking, packing, and forklift operation, as well as shipping and receiving. The logistics manager is responsible for leading, training, and scheduling these employees.
A logistic manager's duties at the distribution center include:
Coordinating product movements

: This includes both products going out to customers and products coming in from vendors.

Applying warehouse slotting changes

: It is up to the logistic manager to make sure the warehouse space is being used in the most efficient way possible.

Adjusting product rotation process

: It is up to a logistic manager to make sure the product is leaving in a manner that provides the best and freshest possible for the customer.

Managing inventory control

: This can be done through computer programs that run reports on inventory and sales.
Managing Materials
Logistic managers are usually responsible for supervising the raw materials needed to support production. They oversee the replenishment and storage of these materials, setting up daily usage estimates and reorder quantity calculations.
It is up to the logistics manager to make sure that all the materials needed for daily operation are in place, whether that means overseeing it themselves or managing employees who do. They manage the timely receipt, processing, and disposition of materials.
With raw materials, the logistics manager is also responsible for fostering a safe culture for all employees. They would do this by implementing and practicing safety policies that are in line with supplier guidelines and federal regulation. They are also expected to implement training programs for all employees who would handle or be in contact with the materials.
Computer Programs
Logistic managers are in charge of installing computer programs used to enter, access, and review shipping, inventory, and performance data. They should be able to use software to track materials arriving from vendors as well as materials leaving the shipping area and being transferred between facilities if applicable. 
They should also be able to use programs to keep track of inventory. The program keeps track of materials on hand and generates reports to reconcile inaccurate inventory counts. These programs will also allow the manager to set levels for automatic reorders.
Logistic managers should be able to gather various forms of data from reports generated by the programs. This data is usually used to provide updates and information to supervisors of other departments, letting them know where things are not running as efficiently as possible and suggest ways to improve.
What to Look for in a Logistic Manager
With such a varied job description, it is not just anyone who can be successful as a logistics manager. There are a number of traits and certain levels of education and experience that are common in successful logistics managers. Here are some of the things successful logistics managers possess…
Experience

Logistics managers who do well in their positions tend to have a background working somewhere in the logistics field before taking a management position. Practical knowledge of how things work and what it is like to work in at least one of the departments a logistics manager oversees is invaluable.

Experience will give you important knowledge and skills like being able to calculate freight class and understanding how class is determined. Keeping up on the latest trends in supply chain management is important to success, and experience will help with that.
Bachelor's Degree

Although nothing beats practical hands-on experience, most logistic managers have a bachelor's degree. There are programs that offer degrees in Logistics Management, but other fields are just as good. A degree in supply chain management, business administration, accounting, will provide you with the fundamental skills and knowledge needed for a career in the field
Certifications

Certifications are not required for the position, but they are available and only improve a logistics manager's value. Having a certification through an organization like the International Society of Logistics or the Association for Supply Chain Management makes sure that you have the background and knowledge needed to be successful.
Problem Solving Skills

Logistics is a fast-moving and evolving field. Problem-solving skills are essential to be successful. You cannot balance employee time limitations, storage space, and shipping restrictions that may pop up without the ability to solve problems fast. This also means having contingency plans in place before things go haywire, so problems can be solved before they happen.
Adaptability
Unforeseen events happen in logistics all the time. Many of these events derail a delivery or the supply chain. A good logistics manager will be able to adapt to the changes the event causes and rework schedules and employees to keep things on time.

The job of a logistics manager is constantly trying to adapt to the changes that are happening on a daily basis. Part of being adaptable is thinking ahead. A strong logistics manager will see things coming and adapt before problems arise.
Strong Communication Skills

There are a lot of people that a logistic manager needs to effectively communicate with to do their job. They need to have clear lines of communication with business representatives, product vendors, product carriers, clients, other departments, and members of their own logistics team. 
If they are not good at communicating, they will struggle to get all the various arms of the logistics family on the same page.
Organizational Skills

The main focus of a logistics manager is to manage inventory and coordinate schedules of deliveries and shipments. The key to doing this well is keeping detailed records of every aspect of what goes on in the warehouse and have them readily available for reference.

Along with organization, a logistics manager must also pay attention to every detail, no matter how small. A highly organized and detailed logistics manager will be better able to adapt to the many things that pop up on any given day and will be better equipped to problem solve when issues arise.
Leadership Skills
With all that, a logistics manager needs to watch over and coordinate, it is important that they have strong leadership skills to:
Understand the value of every employee and be able to delegate responsibilities where needed appropriately. 

Pay attention to the team's efforts. Leaders must commend good work and know the right way to correct mistakes. 

Be someone that people are willing to follow because any area that isn't on the same page will cause issues. 

Properly represent the logistics team in dealing with other departments, so it is key to act professionally and show respect to other departments.
Strong Numerical and Analytical Skills

You do not need to have a math degree, but an effective logistics manager needs to understand numbers. They have to be able to read and analyze data, making interpretations that will help the company and the supply chain.
Sound Decision Making and Follow Through

As a manager in a fast-moving industry, a logistics manager needs to be able to make sound decisions and make them fast. 
Unforeseen circumstances will occur on a regular basis.

The logistics manager is going to have to make quick sound decisions to keep things moving on the proper timelines.

Once the decision has been made, the logistic manager needs to be able to follow through. Talk to the parties involved, make sure the problem has been fixed, make a note of what went wrong, so it can be avoided from happening again in the future.
Accountable

An effective logistic manager is always accountable for their actions. A logistics manager often oversees a large team and must be ready to be accountable for whatever goes wrong throughout the team. They must know when and how to own up to mistakes made by either members of their team or themselves.
How Can Logistics Management Benefit You?
Now that you understand what a logistics manager is and what an effective one looks like, the question remains, how will you benefit from having one on your staff. 
While not every business is big enough to benefit from having one person dedicated to the position, as a business grows its client base and its production, it becomes more essential to your success. Here are some ways your business will benefit from adding a logistics manager to your team…
Increased Customer Satisfaction
Many customers have become very accustomed to the speed and quality of service today; call it the "Amazon Effect". Customer expectations are high. And leaving bad reviews is easy to do – and can swiftly impact your business. This means your business needs to ship your product in a fast, accurate, and safe fashion. 
A logistics manager will be consistently trying to optimize transportation processes and eliminate any disruptions that may arise. This will directly impact the level of your customer satisfaction. 
Improved customer service will bring you a good reputation that will improve your company's brand and generate more business. Well managed logistics will create a smoother freight  process that will provide more value for your customers, ultimately leading to an overall positive customer experience.
Visibility
It is important for a company's supply chain to be visible, so problems can be identified and fixed in a timely manner. Logistics managers will use programs to analyze historical data and track the real-time movement of goods in and out of your company. 
This information will allow them to optimize your shipping process and avoid many potential disruptions to the supply chain. A logistics manager will create visibility that will keep your supply chain moving more efficiently and help you gain insight into how your operations are functioning.
Cost Savings
Using a logistic manager should give a company control over inbound freight, keep inventory at the proper levels, organize the reverse flow of goods, and utilize the most cost-effective and timely modes of transportation. Having control of all of these things should lead to significant cost savings.
If you have a significant level of production and shipping in your business, you should consider having someone whose job it is to organize and coordinate those aspects of your business. If you hire the right person, you will see huge increases in the efficiency of your warehouse and shipping departments. 
This increased efficiency will lead to better customer satisfaction, which can help your business grow faster, and savings in your cost of production and shipping, which can help increase your profit margin.
Why You Need a Logistics Manager
For all of the reasons above, for all of the things a logistics manager does, this role plays a crucial part of the success of your business. A good logistics manager does more than oversee the supply chain – they manage customer needs and impact overall customer satisfaction by ensuring your deliveries live up to today's high customer expectations.