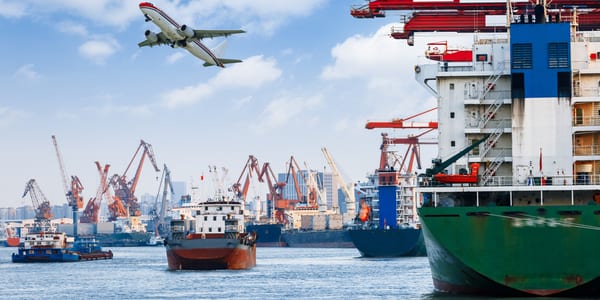 June 15, 2020
Ocean Freight 101: How Sea Freight Works in Simple English
[et_pb_section fb_built="1″ admin_label="section" _builder_version="3.22″][et_pb_row admin_label="row" _builder_version="3.25″ background_size="initial" background_position="top_left" background_repeat="repeat"][et_pb_column type="4_4″ _builder_version="3.25″ custom_padding="|||" custom_padding__hover="|||"][et_pb_text admin_label="Text" _builder_version="4.9.10″ background_size="initial" background_position="top_left" background_repeat="repeat" hover_enabled="0″ sticky_enabled="0″]Chances are the computer monitor in front of you or the smartphone in your hand was either manufactured overseas or made with parts from another country. The chances are even better that they were transported on a container ship. Over 90% of the world's goods travel over its oceans.  With so much commerce moving through ocean freight, it makes one wonder how it all works.
Welcome to Ocean Freight 101, where we will break down sea freight in simple English.  You will learn how intermodal transportation revolutionized how goods move across the world's oceans and explore how the major ports operate.  You will learn the parties involved in an ocean freight shipment and what documents are required, and see that it is not that complicated.

Without sea freight, the world's economy would come to a screeching halt – there would be no electronic products, manufacturers would have no raw materials, and store shelves would be half empty.  Even though we live in a digital world, it is the massive flow of goods crossing our oceans that keeps global commerce's engine running.  We begin by exploring what exactly is meant by ocean freight.
What Does Ocean Freight Mean?
Put simply, ocean freight is the transport of goods, raw materials, and commodities via the world's oceans and waterways.  The overwhelming majority of everything that is sold anywhere around the globe likely got there, at least part-way,  on a ship.  
The main reasons why ocean freight is used so heavily in the movement of global commerce are:
Cost – Shipping costs for ocean freight are a fraction of what it would cost to ship something by air.  Although ocean freight typically takes weeks, possibly months, from departure to arrival, with the frequency and regularity of vessels going back and forth between major ports, parties must take transit times into account when making their business plans.
To illustrate, the following table shows the average cost of certain goods shipping from one country to another via sea freight:
| | | | |
| --- | --- | --- | --- |
| ITEM | ORIGIN (SHIP FROM) | DESTINATION (SHIP TO) | COST USD ($) |
| Bicycle | Thailand | United Kingdom | $10.00 |
| DVD Player | Asia | Europe/United States | $1.50 |
| Coffee (1 kilogram) | Asia | Europe/United States | $.15 |
| Can of beer | Asia | Europe/United States | $.01 |
Efficiency and Capacity

– A 747 cargo plane (one of the largest) can transport roughly

308,000 pounds

of cargo for a distance of 4,200 nautical miles.  In contrast, a cargo ship can carry

11,000 containers

,

each measuring 20 feet long and capable of holding an astonishing

37,500 pounds

per container

.  That works out to 412.5 million pounds (206,250 tons) on a single cargo ship.
Although a cargo plane can certainly travel much faster than a cargo ship, with technological advances that make cargo ships faster and more fuel-efficient, sea freight transit times continue to get shorter and shorter.  For instance, a container load of refrigerators can make the trip from Malaysia to California in just over two weeks on an ocean vessel.
It was the business savvy of an American entrepreneur in the mid-1950s that revolutionized the way that goods were moved around the world, forever changing the concept of ocean freight.
Container Shipping – The Lifeblood of Sea Freight
In 1956 a converted World War II tanker was fitted with a reinforced deck and used to transport 58 large metal boxes, each containing various types of goods and m
aterials.  This historic maiden voyage from Newark to Houston gave birth to the idea of container shipping and, more importantly, the concept of intermodal transportation, which is the very essence of ocean freight systems around the world.
If you do any driving at all, then you have likely seen them on your local highways – big rigs and 18-wheelers hauling around enormous rectangular boxes with large, hinged doors in the back.  These are known as shipping containers, and they are what make intermodal transportation work.  Shipping containers are universal, meaning they are the same size everywhere in the world.  
The most common sizes are:
20-foot container

– This is the

standard

size in sea freight container shipping.  It is also the measure by which container ship capacity is stated.  The term

TEU

(Twenty-foot Equivalent Unit) refers to the number of 20-foot containers that a particular vessel can hold.  For example, if a ship has a 10,000 TEU capacity, it means that it can hold ten thousand 20-foot containers.
Payload Capacity (Pounds): 37,500 lbs.
      Payload Capacity (Cubic Feet): 1,165 cu. ft.
Internal Dimensions: 19.4 ft. length x 7.7 ft. width x 7.5 ft. height
40-foot container

– This is the

most common

size container found on container ships.  It is two 20-foot containers placed end to end.  The

FEU

(Forty-foot Equivalent Unit) is the measure used to state a container ship's capacity concerning this larger container size.
Payload Capacity (Pounds): 46,500 lbs.
Payload Capacity (Cubic Feet): 2,390 cu. ft.
Internal Dimensions: 39.5 ft. length x 7.7 ft. width x 7.9 ft. height
Intermodal Transportation Explained
The best way to explain how intermodal transportation works is to use an example.  Imagine you are the owner of a company in Las Vegas, and you have 20 pallets of products that need to be exported to France.  You call your freight forwarding company and make all the arrangements for the shipment to go to your customer in France via ocean freight.
Pickup from your warehouse

– A local trucking company arrives at your warehouse with a 40-foot container to pick up your 20 pallets.  Your warehouse crew loads the pallets into the container, and the truck driver will close the large container doors. Likely, the driver will attach a seal on the door latches to evidence any tampering during the trip.  

Transport to local distribution/consolidation center

– From your warehouse, the container will travel to a local distribution or consolidation center where it will be routed to the port you have designated as the "port of loading" (where your shipment will be loaded and depart from).  

Inland transportation to local port

– From the distribution center, the container will travel by truck or rail to the designated port of loading.  If you are in a landlocked area with no ports in your vicinity, then rail (train) may be the most economical transportation mode for your container to get to the port.  

Inland transportation may involve a sequence looking like this:

Truck transportation from your facility/local distribution center to the closest rail depot

Rail transportation from your area to the area near the port of loading (larger ports have rail facilities within their complex)

Transfer back to a truck to transport the container to the port of embarkation

Loading

– Once at the port, the container will be loaded on to the container ship along with thousands of other containers.  Highly specialized equipment and a skilled workforce are needed to perform this enormous task efficiently and quickly.  

Transit

– After departure, the container ship may sail directly to the destination port (especially if it is a significant route), or it may make one or several stops in between to offload cargo or load new cargo.  Since cargo ships are so large, the vessel's operator may want to maximize available space by consolidating multiple stops into one voyage.  

Arrival at the destination

– Once the vessel arrives at the destination port ("port of discharge"), if all the shipping documents are in order and French customs signs off, the container will be offloaded, loaded on to a trailer and transported via truck or rail to a distribution center near your customer's location in France.  From there, a local French logistics company will make the arrangements for the final delivery of your goods to your customer's place of business.



The most important thing to understand in our example is that once the goods were loaded by you, the shipper, into the container, not once were the goods handled until they arrived at their destination.  It was the container that was transported by ground, then by sea and then by ground again.
This is the very essence of intermodal transportation – no matter the method of transport, whether by ground, rail, or ocean vessel – the goods themselves are only handled when they are loaded into the container before departure and when they are removed from the container at their final destination.  This seemingly simple concept was a massive game-changer in the way that the world ships its goods.

Ports – The Heart of Sea Freight Operations
If container shipping is the lifeblood of sea freight, then ports are its heartbeat.  The world's ports play a vital role in keeping global sea freight systems running smoothly.  Hundreds of millions of shipping containers are loaded and offloaded from container ships each year around the globe.  There are ports in just about every corner of the world, some of them small and others massive.
These were the five busiest ports in the United States during 2018:
| | | | |
| --- | --- | --- | --- |
| RANK | NAME OF PORT | LOCATION | 2018 VOLUME (TEU) |
| 1 | Port of Los Angeles | California | 9.46 million |
| 2 | Port of Long Beach | California | 8.09 million |
| 3 | Port of New York and New Jersey | New York/New Jersey | 7.20 million |
| 4 | Port of Savannah | Georgia | 4.35 million |
| 5 | Port of Seattle-Tacoma NWSA | Washington | 3.47 million |
As impressive as these numbers appear, even the figures for the Ports of Los Angeles and Long Beach combined would not place them in the top five busiest ports worldwide.  The busiest port in all of Europe (Rotterdam, The Netherlands) does not even crack the top ten.  
These were the five busiest ports in the world during 2018:
| | | | |
| --- | --- | --- | --- |
| RANK | NAME OF PORT | LOCATION | 2018 VOLUME (TEU) |
| 1 | Shanghai | China | 42.01 million |
| 2 | Singapore | Singapore | 36.60 million |
| 3 | Shenzhen | China | 27.74 million |
| 4 | Ningbo-Zhoushan | China | 26.35 million |
| 5 | Guangzhou Harbor | China | 21.87 million |
We have seen the vast amount of cargo volume that a single container ship can hold; the arduous task of loading and unloading thousands of shipping containers seems like a daunting, time-consuming task at first glance.  Yet, container ships spend but several days on average berthed at a port terminal while a flurry of activity runs day and night to ensure that sailing schedules are kept on time.
What Types of Equipment are Used at Ports?
As container ships continue to get larger to accommodate bigger cargo loads, specialized port equipment must keep pace to keep goods flowing in an
d out.  As far as larger ports around the world, shipping container equipment can be categorized by the type of task performed:  (1)
loading or unloading ship to shore, (2) loading/unloading on ground or rail transportation, and (3) stacking/storage.
Ship to Shore Equipment
Once a container ship docks in its berth at the terminal a network of container cranes gets to work offloading the thousands upon thousands of shipping containers onboard.  Container cranes go by many names, including portainers, transtainers, and STS cranes, just to name a few. Many container cranes are referred to by the size vessel they are capable of loading and unloading.
To help us better understand the types of STS cranes that are needed to move shipping containers on and off of container ships, it is helpful to examine the different sizes of vessels that are commonly found berthing at ports these days.
Panamax

– The name for this vessel derives from the fact that at the time, its length and width (known as its beam) were the maximum that would fit through the Panama Canal's locks.
Length: 965 feet
Beam: 106 feet
Capacity: 3,000 to 5,000 TEU
Container Configuration: 13 rows across, stacked 11 high
This vessel requires a container crane capable of lifting from 82 feet high, with a reach across 16 containers.

Post-Panamax

– At the time when Panamax ships were the only ones capable of passing through the Panama Canal, Post Panamax ships were those that could not either because they were too long, or too wide, or more often than not, both.
Length: 1,100 feet
Beam: 144 feet
Capacity: 4,500 to 10,000 TEU
Container Configuration: 17 rows across, stacked 11 high
This vessel requires a container crane capable of lifting from 115 feet high, with a reach across 17 to 19 containers.
Neo-Panamax

– In June 2016, the Panama Canal opened its new, expanded lock system that would enable larger cargo ships to pass through.  The new, larger class of container ships is known as Neo-Panamax.  It should be noted that the new locks are roughly 1,400 feet in length, which is 200 feet more than the length of a Neo-Panamax vessel.
Length: 1,200 feet
Beam: 160 feet
Capacity: 12,000 to 14,400 TEU
Container Configuration: 18 rows across, stacked 13 high
This vessel requires a container crane capable of lifting from 161 feet high, with a reach across 20 to 23 containers.  This is the latest generation of container cranes, and it is known as a Super Post-Panamax crane.
Megaship

– As ocean freight line operators seek to increase cargo efficiency and maximize their bottom lines, megaships are becoming a more common sight on the world's oceans.  The technical standard for a megaship is that they are rated 10,000 TEU or higher, but in reality, their average TEU is in the range of 12,000 to 18,000.

They are becoming particularly more common on trans-Pacific shipping lanes from Asia to North America.  (It is important to note that this route avoids having to pass through the Panama Canal, which is why they can be so long and wide.)
Length: 1,300 feet
Beam: 177 feet
Capacity: 10,000 to 20,000 TEU
Container Configuration: 21 rows across, stacked 18 high
This vessel can only be serviced by Super Post-Panamax cranes as the height of stacked containers when it is fully laden is too high for any other type of container crane.
To provide some perspective on the tremendous scale of operations at a busy po
rt, the Port of Los Angeles (the busiest American port) has 82 ship to shore cranes, a great many of which are of the Super Post-Panamax variety to accommodate megaships.  It is worth noting that each Super Post-Panamax crane is capable of lifting two containers at a time, thus reducing total offload time.
During the first megaship docking at Port of Los Angeles, a reported 29.1 crane lifts and 200 total container moves per hour were required for a 56-hour stretch to turn the vessel over. And this particular vessel was not even fully laden! With the increasing presence of megaships, it is even 
more critical for ports to perfectly coordinate the activities of ship to shore cranes and container equipment on the ground.
Ground and Rail Transportation Equipment
Once STS cranes offload containers, an army of smaller, highly specialized cranes load each container onto an awaiting truck or rail car for immediate transport away from the port.  Keeping everything moving in an organized manner requires tremendous planning and efficiency.  Because these activities are so interdependent, one single delay can have a domino effect.
To speed up the process of moving shipping containers out of the port terminal area, extensive facilities such as the Port of Los Angeles have rail yards within each terminal to facilitate the quick intermodal movement of shipping containers.  The fact that port terminal rail yards are linked to regional rail lines means that containers can go from ship to shore to rail within a matter of hours.
Busy ports around the world have a constant flow of container trucks bringing containers in and taking containers out.  Highly mobile cranes and specialized lifts can raise 20-foot or 40-foot containers and position them onto trucks with great speed and efficiency.  In some cases, a dual transaction (where a truck brings a container into port and leaves with a different container) can be performed in 80 minutes or less.
Stacking and Storage Equipment
Major ports are, in a word, massive.  They can easily occupy thousands of acres of land to house
 their many terminals, yards, and work areas, not to mention administrative buildings.  Much of this space is dedicated to storing containers consisting of empty ones waiting to go out on trucks to pick up cargo, or filled containers either waiting to be loaded onto an outbound vessel or to be picked up and transported away.
The task of stacking containers in terminal yards is given to special lifts known as top handlers (also known as front-end loaders) and side handlers (also known as reach stackers), which can lift and precisely stack containers from three to five high.  They are extremely large and powerful forklifts.  Gantry cranes fitted to move on rails or large rubber tires can achieve even higher stacks of containers.
Measuring Port Productivity
Shipping line operators and purchasers of goods have one thing in common:  they both want their cargo offloaded from container ships as quickly and efficiently as possible.  Port productivity can be measured in many ways, but the two metrics that matter the most are:
Gross Moves Per Hour

– This refers to the number of movements (i.e., containers that are offloaded) that a single STS crane can perform in one hour (often abbreviated to GMPH).  It speaks to the skill of the crane operator and the technological abilities of the crane itself.
Berth Moves Per Hour

– The BMPH, as it is often called, is the statistic that matters to everybody.  It refers to the number of movements made per hour for all the cranes attending to a single vessel at berth.  In other words, it is a measurement of how quickly a container ship can be unloaded.
A well-managed port terminal operation can manage 30+ GMPH and 200+ BMPH.
The Parties to an Ocean Shipment
First-time shippers of ocean cargo may be initially intimidated by the procedures involved in successfully executing sea freight.  However, these concerns are usually unfounded.  The first step is recognizing who the various parties are and understanding their respective responsibilities and rights.  From there, it is just a matter of doing your due diligence and research and aligning yourself with professionals.
The Shipper
This party is usually the seller of the goods and has primary responsibility for:
Gathering the goods and ensuring that they comply with the buyer's order
Prepare all paperwork for the goods including the packing lists and commercial invoices
Prepare and pack the goods for shipment (i.e., on pallets, in cartons)
Work with a freight forwarder and make arrangements for the goods to be picked up

The Consignee
This is the party (individual or business) that is named on the official shipping documents as the receiver of the shipment.  Usually, the buyer is the consignee, but there are times when the consignee is a different party – for instance, a bank or financing institution that holds title to the goods until the buyer pays for them in full.
The Notify Party
Shipping documents may also name a notify party who is typically an agent of the freight forwarder or for the consignee.  Often the notify party is local to the consignee and assists in making arrangements after arrival at the port of entry for the goods to clear customs and be delivered to the consignee.
The Carrier
This is the shipping line or company that will transport the goods for the shipper.  Many of the world's largest carriers are multi-billion dollar conglomerates, with many vessels flying under their flag.
The Freight Forwarder and Agent
Aside from the shipper and consignee, the freight forwarder is perhaps the most important party involved in an ocean shipment.  It is the freight forwarder that schedules a truck to pick up the shipper's cargo, books space for the goods on a container, and schedules the container to depart on a specific vessel (also known as a voyage).  The freight forwarder also provides the shipping documents to the carrier.
Often the freight forwarder either has a satellite office in the destination country or works with a local agent to facilitate all the procedures required after arrival for the goods to be delivered to the consignee.
Customs
Each country has an office or agency that regulates the goods that can and cannot enter.  Therefore, it is critical to do your research before shipping to ensure that the products comply with local requirements and can clear customs upon arrival.  Working with your freight forwarder should clarify any customs issues as well as provide estimated costs for duties, taxes, and tariffs that may be levied by the destination country.
The Goods
When you work with a freight forwarder, some of the first things you will be asked are, what are you shipping and in what quantities.  As far as the goods, you must be mindful of whether it is permissible for you to ship those items out of the country (certain things such as firearms and advanced technology are restricted), and also whether they are permitted entry in the destination country.
Governments sometimes impose tariffs on goods or restrict certain products from entering at all.  Your freight forwarding company should be able to assist you in determining whether there will be any problems with your particular shipment.  There are also resources available at the U.S. Customs and Border Protection website and the U.S. International Trade Commission website.
Shipment Size
The size of your shipment will determine how it ships and the rate you will pay.  There are two main ways that cargo is shipped in shipping containers:
Full Container Load (FCL)

– As the name suggests, an FCL shipment means that your cargo occupies the whole container by itself.  If your shipment is large, this may be the best shipping option as it means that you are not sharing the container with anybody else, you will likely receive the best rate from the carrier, and your container may receive scheduling preference.
Less than Container Load (LCL)

– For smaller shipments, the LCL option will enable you to share a container with other small shipments.  While you will undoubtedly benefit from the cost savings of shipping via ocean freight as opposed to air freight, you may experience delays due to the added complication of other shipments sharing space in the same container.
Also, if any of the other goods in your container are subject to a detailed inspection upon arrival for whatever reason, there is a good chance that your goods will not be released until the entire container is cleared.
The Documents
Perhaps the most crucial aspect of an ocean shipment that must be done meticulously and correctly are the shipping documents.  It is essential to understand that ocean freight shipping documents serve several vital functions. In essence, they create a contract between the shipper and the carrier, and they pass legal title to the goods from the shipper to the consignee.
The shipping documents also specify the exact nature of the goods being shipped for identification, customs, and tax purposes.  For certain types of goods, the documents also state where they originated from and, in the case of food products, a certificate stating that they are safe for human consumption.
These are the primary documents needed for ocean freight:
Packing List

– This document's purpose is to provide a detailed description of the goods being shipped, their exact quantities, any product numbers or model numbers to assist in the identification, along with the shipper's name and address and the consignee's name and address.
Commercial Invoice

– The commercial invoice states similar information as the packing list, but this document also includes pricing.  Technically, the commercial invoice states values for the goods upon which duties, taxes, and tariffs may be calculated once the goods arrive in the destination country.  Customs will look at the amounts stated on the commercial invoice when making their calculations.
Bill of Lading

– This is the official shipping document issued by the carrier.  It is usually forwarded in duplicate or triplicate to the consignee so that the goods can be surrendered to the consignee upon arrival and clearance through customs.  This is a critical document.
Certificate of Origin

– For certain types of goods (e.g., agricultural products), a certificate of origin must accompany the commercial invoice and packing list to state with specificity where the goods originated from.  A certificate of origin is usually issued by a local chamber of commerce or municipal government office.
Certificate of Analysis

– For food products, a certificate of analysis (sometimes referred to as a phytosanitary certificate) must be provided showing that the goods are safe for human consumption.  These certificates typically demonstrate that a series of tests performed on product samples came back negative for a specific list of known toxins such as salmonella, E-coli, and others.
Depending on the particular nature of the goods being shipped, there may be additional documents required (e.g., shipments over $2,500.00 in value require the filing of an Electronic Export Information form).  The U.S. government's export assistance website is an excellent resource for learning about proper documentation required for certain types of shipments.
Ocean Freight has Made the World Smaller
As container ships continue to get bigger and faster, the flow of goods from one corner of the world to another is quickening, becoming more cost-effective in the process.  Shipping lines are even implementing changes to make their vessels environmentally friendly by using more efficient engines.  And to think that all this was made possible by an idea of putting a bunch of stuff in a big, rectangular box!

[/et_pb_text][/et_pb_column][/et_pb_row][/et_pb_section]