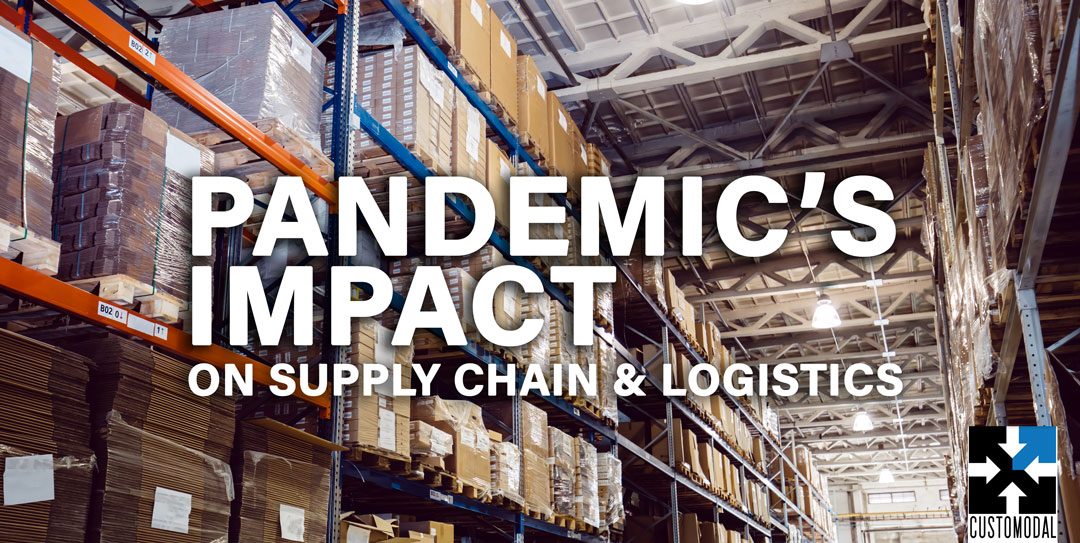 July 23, 2021
Pandemic's Impact on Supply Chain & Logistics Continues
[et_pb_section fb_built="1″ admin_label="section" _builder_version="3.22″][et_pb_row admin_label="row" _builder_version="3.25″ background_size="initial" background_position="top_left" background_repeat="repeat"][et_pb_column type="4_4″ _builder_version="3.25″ custom_padding="|||" custom_padding__hover="|||"][et_pb_text admin_label="Text" _builder_version="4.9.10″ background_size="initial" background_position="top_left" background_repeat="repeat" hover_enabled="0″ sticky_enabled="0″]
Pandemic's Impact on Supply Chain
Re-opening does not mean the effects of the pandemic are over and the pandemic's impact on supply chain is likely to continue. Almost 48% of the U.S. population is now vaccinated for Covid-19.  And, unless vaccines are approved for the youngest portion of our population, vaccination rates will likely level out during Q3-2021 below 55%.
Everyday life for most US citizens is returning to normal in the sense of no longer wearing masks, leaving home, and returning to working at the office.  In fact, because life is returning to normal we expect all facets of it to do so at the same speed.  But, the pandemic effects on transportation, logistics, and supply chains will take another 3-6 months to normalize.  Reduced availability, longer transits, more frequent loss or damage, and higher rates are byproducts of market issues.  And, trucking companies (so far) are not universally booking the massive profit increases the maritime industry is achieving.  Work closely with your logistics provider to keep expectations for shipment visibility, transit time, and cost in-line with your supply chain needs.

Beware the Pendulum!  The pandemic disruption has led many business to question, or in some cases to learn about, their position on the trade-off between product cost and logistics cost within their supply chain.  Over the last 25 years manufacturers have consistently sourced farther and farther from factories because consistent logistics cost and performance paired with lower product cost resulted in lower overall inbound landed cost.  The pandemic disrupted the evolution of this model and has many mid-sized companies rethinking how to adjust.
While we believe reevaluation is critical, beware making so many changes that you overcompensate and swing too far toward resilience resulting in unnecessary inventory, higher working capital requirements, and lower profits.  The efficient frontier balancing these variables has moved, no doubt.  To discuss this trade-off in more detail specific to your situation, I encourage you to call or email me.
Freight markets continue to be out-of-balance as a result of the Covid disruption.  Rates are not in the shippers favor right now and likely won't normalize until Q2-2022.  But, clients who have worked with us on process improvements are mitigating pandemic cost and service impacts.  And, these process improvements will continue to pay off even as freight markets normalize.  To tap our experience with logistics process improvement for your business, schedule a free exploratory meeting.
Some recent projects included:
Reduced friction in outbound shipment booking to save time in the shipping office
Leveraged technology to streamline pro# assignment and shipment tracking
Collaboratively redesigned packaging of a client's finished product to optimize for logistics which reduced unit shipping costs by allowing more units per shipment.
Engineered regional consolidation of inbound LTL shipments to reduce truck receiving requirements at production facilities.
Provided inbound material routing and setup to dynamically optimize cost and transit time to production requirements while also improving visibility to production planners of inbound materials.
To learn more about how Customodal can help your business, please contact a friendly member of our team today![/et_pb_text][/et_pb_column][/et_pb_row][/et_pb_section]