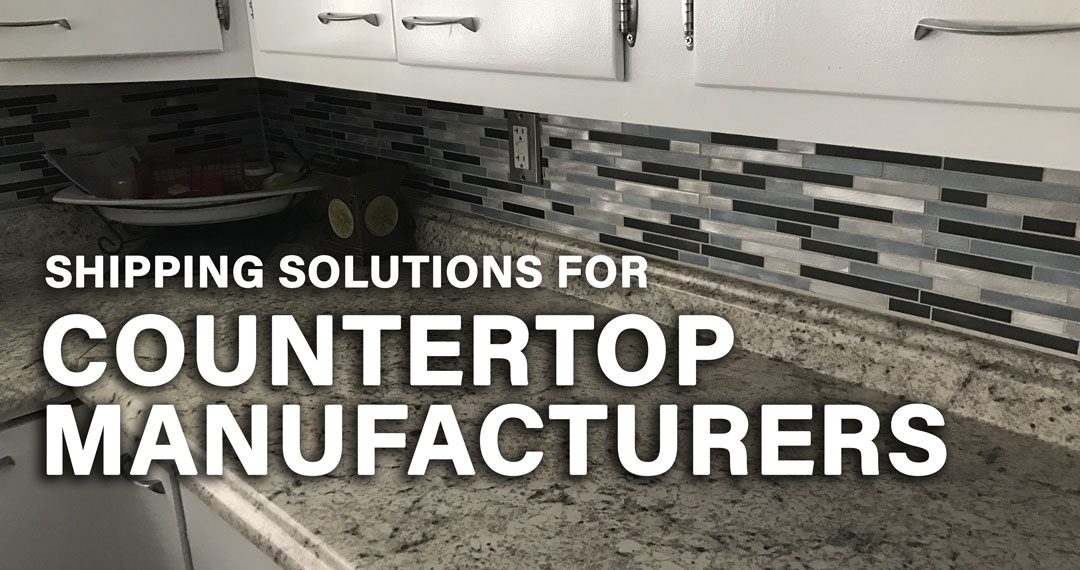 August 13, 2021
Shipping Solutions for Countertop Manufacturers
[et_pb_section fb_built="1″ admin_label="section" _builder_version="3.22″][et_pb_row admin_label="row" _builder_version="3.25″ background_size="initial" background_position="top_left" background_repeat="repeat"][et_pb_column type="4_4″ _builder_version="3.25″ custom_padding="|||" custom_padding__hover="|||"][et_pb_text admin_label="Text" _builder_version="4.9.10″ background_size="initial" background_position="top_left" background_repeat="repeat" hover_enabled="0″ sticky_enabled="0″]
Countertop Manufacturer Shipping Solutions with Customodal
If you are a countertop manufacturer shipping items, Customodal can help with your needs. We work with countertop manufacturers throughout Wisconsin, and beyond, to help them transport their product safely, efficiently, and cost-effectively.
The US countertop manufacturing industry is enjoying a bump in demand as a result of increased remodeling driven by the Covid pandemic. For the 5-year period preceding Covid, the industry saw sales decline about 1%. However, the forecast for the next 5 years looks brighter as the unprecedented drop-off in housing starts must first catch-up to normalize to the long-term demand.
Into this bright picture the industry has innovated both manufacturing methods and materials that have the potential to drive higher demand and profit.

With more than 1,500 countertop manufacturers in the US, the fractured nature of the market leaves manufacturers without significant resources or leverage when it comes to shipping. And, the nature of the product, specifically the long dimensions, makes the freight unattractive to many carriers resulting in surcharges and penalty rates.
Countertop Manufacturer Industry Definition
The countertop manufacturing industry primarily cuts, shapes and finishes countertops for kitchens and bathrooms. Countertops are made from a variety of materials including: wood, plastic laminate, stone, cultured marble, ceramics and concrete. This industry does not include countertops constructed on-site by building contractors.
Key Industry Insights:
Market size topped $89 billion in 2019 and is projected to grow annually by about 2.8% to exceed $111 billion by 2027.
Innovations in materials, namely the various engineered stone and cultured marble products, along with incorporating recycled materials like glass are exploding. Unique, architectural significant countertops are driving higher prices and margins for manufacturers.
Innovations in manufacturing techniques, specifically 3D printing, is simultaneously resulting in unique one-off products, reduced labor to manufacture, reduced time to manufacture, and improved margins.
Growing interest and investment in refurbishing and remodeling drive growth for the industry on top of new construction. And new construction is expected to remain strong as the US housing starts are out of balance with household formation over the last 5 years.
Durable laminate countertops account for the largest portion of already installed countertops in the US and will see strong demand even as engineered stone and natural stone grow in popularity.
Fears of natural occurring radiation (ie Radon) from natural granite and its high purchase price will hamper growth in favor of engineered and cultured products.
Residential demand will continue to be the primary use market.

Logistics Considerations for the Countertop Manufacturing Industry
For many countertop manufacturers, shipping costs are serious business. And smart, growing countertop manufacturers are using experts to help them gain competitive advantage in shipping.
Shipping countertops presents some unique challenges:
Dimensions – most countertops are long, and narrow. Small parcel shippers like UPS and Fedex limit the total dimensions of pieces they will handle and charge exorbitant surcharges long before refusing pieces for size. LTL (Less than truckload) carriers have been discouraging pieces longer than 8' through the use of surcharges for the last couple years.
Packaging – Packaging countertops to withstand the transport environment requires the right design and judicious use of packaging materials
Weight/Density – depending on materials, countertops can be very heavy or not so much. But because of their dimensions, countertops rarely fit the desired freight profile of most carriers.
Destination – The home delivery trend is driving demand for more and more countertop deliveries to be made direct to the installation site. These mostly "one-off" residential deliveries are less efficient for freight carriers than consolidated deliveries to stores or warehouses.
Damage – Countertops, especially when not packaged properly, are easy to damage resulting in unhappy customers, delays, and additional costs.
If you are a countertop manufacturer shipping product, working with a logistics provider like Customodal who has experience and expertise in countertop shipping can help your company. Contact us today to learn more![/et_pb_text][/et_pb_column][/et_pb_row][/et_pb_section]