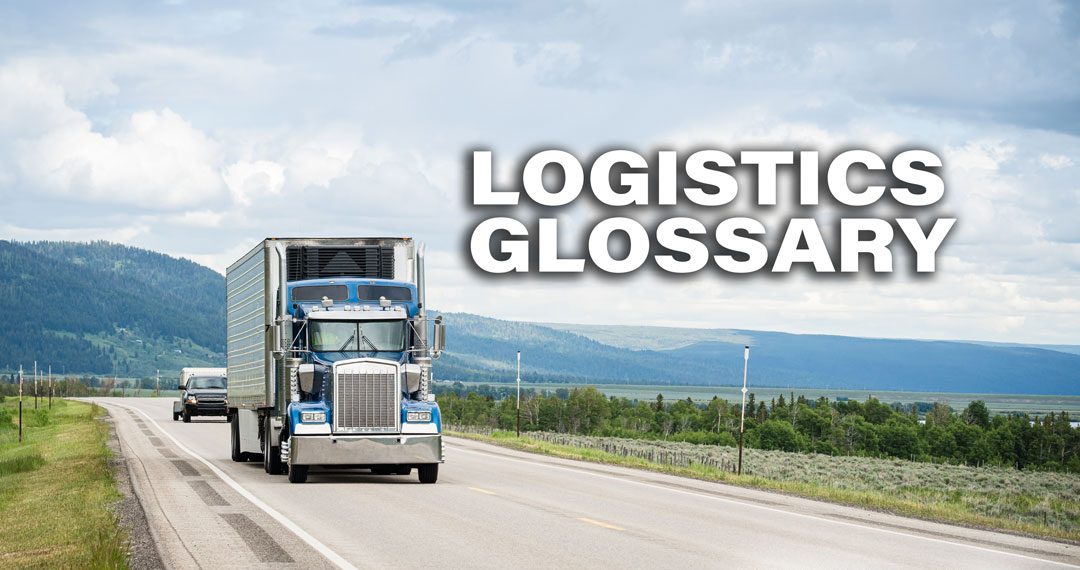 December 15, 2021
Logistics Glossary
[et_pb_section fb_built="1″ _builder_version="4.14.2″ _module_preset="default" global_colors_info="{}"][et_pb_row _builder_version="4.14.2″ _module_preset="default" global_colors_info="{}"][et_pb_column type="4_4″ _builder_version="4.14.2″ _module_preset="default" global_colors_info="{}"][et_pb_image src="https://customodal.com/wp-content/uploads/2021/12/logistics-glossary.jpg" title_text="logistics-glossary" _builder_version="4.14.2″ _module_preset="default" global_colors_info="{}"][/et_pb_image][et_pb_text _builder_version="4.14.2″ _module_preset="default" global_colors_info="{}"]
There are lots of industry terms in the logistics world! We've put together this brief logistics glossary to help you get familiar with some of the common terms and concepts you might come across.
3PL: Source and arrange services from transportation to warehousing and many things in between on behalf of a client.Learn more here.
Bullwhip Effect: Companies are constantly having to predict what customers are going to want to buy. Without a crystal ball, they must predict based on other factors such as industry trends, supply chain structure, and inventory. The Bullwhip Effect is a term used to describe when there is a disruption in this complex shipping process. Learn more here.
Digital Freight Broker: A digital freight broker connects shippers and trucking companies via mobile apps or online marketplaces. Learn more here.
Double-Brokering: Double brokering occurs when a freight broker accepts a shipment and then gives it to another freight broker WITHOUT telling the customer. Learn more here. 
Expedited Shipping: Expedited shipping is a method that's faster than standard shipping. Usually, expedited loads don't stop anywhere between the pickup and delivery locations, so the transit time is shorter.Learn more here.
Freight Broker: The individual or company that oversees the logistics of effective shipping and handling. Learn more here.
Freight Insurance: Additional protection that covers your cargo in case of loss or damage. Learn more here.
HAZMAT Shipping: The shipping of hazardous materials. Shipping hazardous materials (HAZMAT) include more than highly toxic chemicals and nuclear waste. Dangerous goods include nail polish, perfume, batteries, and even hairspray. Learn more here.
Inbound Freight: Refers to the raw products and materials coming into a business from a supplier or vendor. Learn more here.
Incoterms: Defined in laymen's terms, Incoterms are simply a way to clarify the roles and responsibilities of those involved in the shipping process. Learn more here.
Industry 4.0: Industry 4.0, otherwise known as the Fourth Industrial Revolution, is the continual automation of traditional manufacturing and industrial practices using modern smart technology. Smart factories, 3D printing, and smart sensors are just a few examples. Learn more here.
LTL Shipping: Less than truckload shipping, or "LTL" in industry slang,  is a cost-effective alternative for smaller shipments that won't completely fill a truck. Learn more here.
NMFC Code: In the world of shipping, a National Motor Freight Classification or NMFC code is used to help define and regulate products. In LTL shipping. An NMFC code is an industry-wide method of defining freight. Learn more here.
Outbound Freight: Refers to the finished products going out of a business to the customer or distribution channel. Learn more here.
Parcel Shipping: Parcel shipping is the shipment of boxed items that weigh 100-150 pounds or less, depending on the carrier. These are smaller packages that are easy to move by one person without assistance. Learn more here.
Transportation Management System (TMS): Gartner, a global research and advisory company, defines a transportation management system or TMS as a solution that "is used to plan freight movements, do freight rating and shopping across all modes, select the appropriate route and carrier, and manage freight bills and payments." Learn more here.
Truckload Shipping: Truckload shipping is when a shipper books an entire truck or tractor trailer for a load. The idea is to fill the tractor trailer to capacity. Truckload shipments are generally picked up in one place and then dropped off at another location, usually without any stops along the way. Learn more here.
Vendor Validation: Vendor validation is the process that confirms a supplier as a legitimate entity. Learn more here.
Customodal designs, executes and optimizes transportation logistics programs for businesses of all sizes to support client strategy and enhance client competitive advantage. Carrier negotiation, shipment execution, tracking and tracing, freight bill audit, performance scorecards, and supply chain visibility are all components of the Customodal value add.
[/et_pb_text][/et_pb_column][/et_pb_row][/et_pb_section][et_pb_section fb_built="1″ _builder_version="4.14.2″ _module_preset="default" global_colors_info="{}"][et_pb_row _builder_version="4.14.2″ _module_preset="default" global_colors_info="{}"][et_pb_column type="4_4″ _builder_version="4.14.2″ _module_preset="default" global_colors_info="{}"][/et_pb_column][/et_pb_row][/et_pb_section][et_pb_section fb_built="1″ _builder_version="4.14.2″ _module_preset="default" global_colors_info="{}"][et_pb_row _builder_version="4.14.2″ _module_preset="default" global_colors_info="{}"][et_pb_column type="4_4″ _builder_version="4.14.2″ _module_preset="default" global_colors_info="{}"][et_pb_button button_url="https://customodal.com/book-a-demo/" url_new_window="on" button_text="Book a Demo!" _builder_version="4.14.2″ _module_preset="default" global_colors_info="{}"][/et_pb_button][/et_pb_column][/et_pb_row][/et_pb_section]