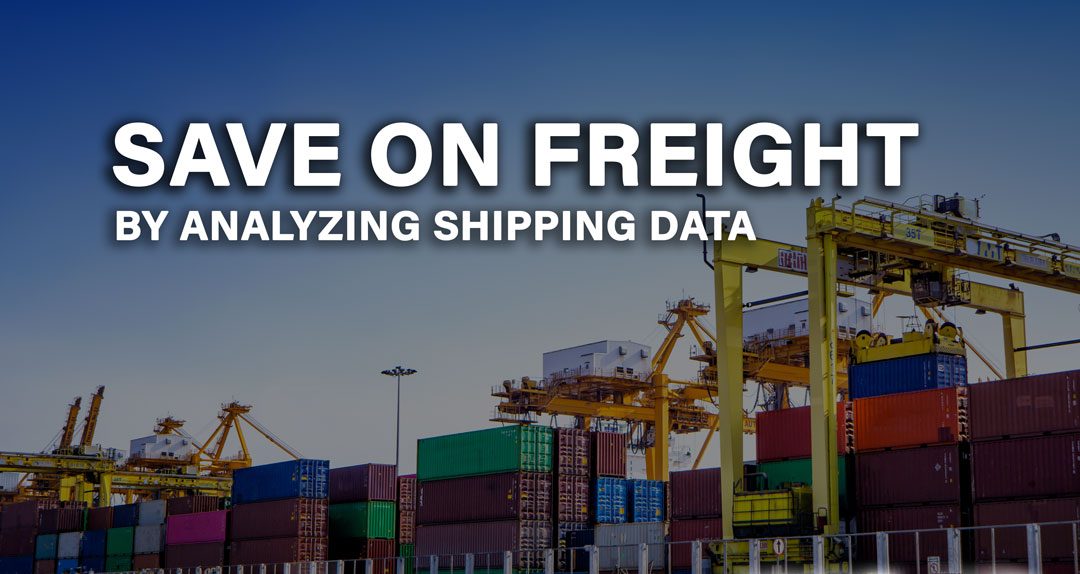 October 3, 2022
How To Save on Freight By Analyzing Shipping Data
If you're looking for savings, you can save on freight by analyzing shipping data – and we're here to help you do just that!
When ABC Manufacturing first commissioned Customodal to review their freight history, they already knew their larger competitors were beating them on overall shipping cost. The assumption was that sheer volume was the reason the big players paid less. But volume is only one factor in optimizing freight dollars.
When a large company gains the sophistication to dictate how they want freight shipped from a supplier, it's a good bet that they have negotiated rates with carriers they know are better than they could get in a traditional freight scenario. They also probably have put some thought into who that carrier should be. With the resources of our international partnerships and the local touch of Customodal at their disposal, ABC began the process of evaluating and reshaping the way they approached shipping.
Building the Foundation for Lasting Freight Savings
In Phase 1, Customodal developed a baseline sample of inbound shipment data with carrier and cost components and then ran that baseline through our rating model to identify carrier and rate optimizations. We collaboratively developed a letter to the client's vendor-base, informing them of the new procedures for inbound freight. These new procedures dictated to vendors how freight would be shipped, optimized the rate/carrier selection to take advantage of our volume rates and captured all shipments into our TMS for full client visibility as well as data capture.
The implementation of this initial phase took 60 days, targeted just vendors who were generating freight bills on our client's account, and resulted in immediate cost improvements as well as reduced freight damage incidence.
The Next Phase: Digging for Dollars
Once the real savings from Phase 1 were put into practice and proven consistent in real-world applications, Customodal initiated Phase 2, which was designed to revisit ABC's broader vendor-base to apply the same process to vendors where freight was "prepay and add."
"Prepay and Add"—Code for "Open Your Wallet a Little Wider"
The "prepay and add" billing system is one of the most consignee-UNfriendly arrangements in freight. In the case of ABC, when they received freight "prepay and add," they never saw the actual freight bill and never saw whether (or how much) the consignor had added as an upcharge to the invoice. In reasonable likelihood, the carrier was billing a higher rate, and the consignor was making a little off the shipment as well—all driving up the overall cost to ABC and making them a little less competitive in the marketplace.
When ABC took control of their consignee relationships, they were able to cut any additional markup from the consignor completely, plus they were able to choose carriers based on their own optimized carrier list developed in Phase 1. Freight cost reduction in this group of vendors was astounding.
Identifying Freight Savings Comes Back to Having a Command of Your Freight History
But none of these savings could have ever happened without copious data on ABCs shipping habits and freight history. Only after gaining a complete understanding of ABC's "big picture" could Customodal begin to implement cost controls and freight savings in the "daily picture."
The beauty for ABC was the significant overall cost savings, but the surprise reveal was how little staff time was necessary on ABC's part. ABC essentially gained the advantage of a big shipper without the need to increase staff to achieve those savings.
Learn more on how you can save by contacting Customodal today!