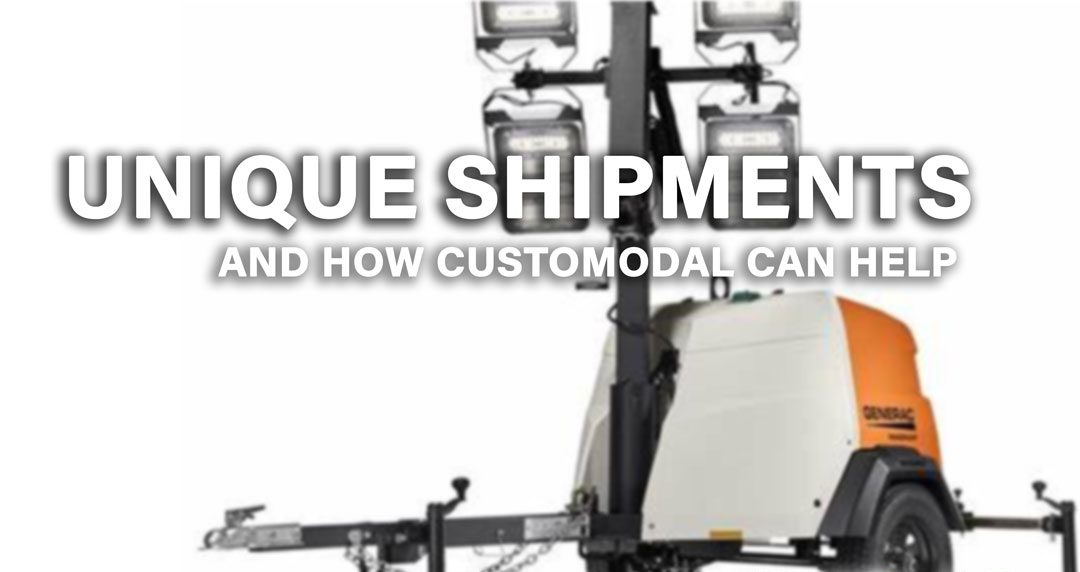 October 25, 2022
Customodal Team Equipped to Help with Unique Shipments
This past month, Customodal was proud to help with unique shipments: the first two shipments from a new account. Both of the shipments required a hot shot carrier with a flatbed trailer due to the size of the shipments. The first shipment was two self contained lighting towers about 12-foot long each and the second shipment was two 40-foot long, 6-inch diameter sections of pipe along with three other pallets. The two shipments were consigned to National Strategic Oil Reserve locations in Louisiana and Texas.
"These shipments were unique for several reasons," said Michael Standley, Account Executive.
First of all, most shipments Standley secures and schedules are palletized or crated material that normally moves by LTL or full truckload. Both of these shipments were coordinated by Customodal's truckload department utilizing flatbed hot shot carriers who could make these deliveries the same day they were picked up.
In addition, these carriers were also specially equipped to strap down the light towers and the 40-foot long loose pipe for safe transport. This is not usually a requirement for standard palletized shipments.
The other unique aspect of both of these shipments was the strict security delivery driver requirements including TWIC card, U.S. citizenship, and no possession of a weapon that Customodal had to make sure the carrier could provide at both of these strategic oil reserve delivery locations.
"I feel that Customodal excelled in helping the shipper obtain the proper carrier, with the exact equipment, personnel and ability to have these shipments delivered in the expected timeline required, at a price that offered true value to our customer," said Standley. "The customer was able to feel secure that they could turn over what they considered a difficult critical shipment to a major customer, and have the confidence the shipment would be handled smoothly."
Customodal has a very experienced team with access to a multitude of carrier options. This account would be considered a small local account that on its own would not have access to the multiple options Customodal can offer, and at the price we can provide.
Need help with unique shipments? Learn how we can help YOU with all of your shipping needs!