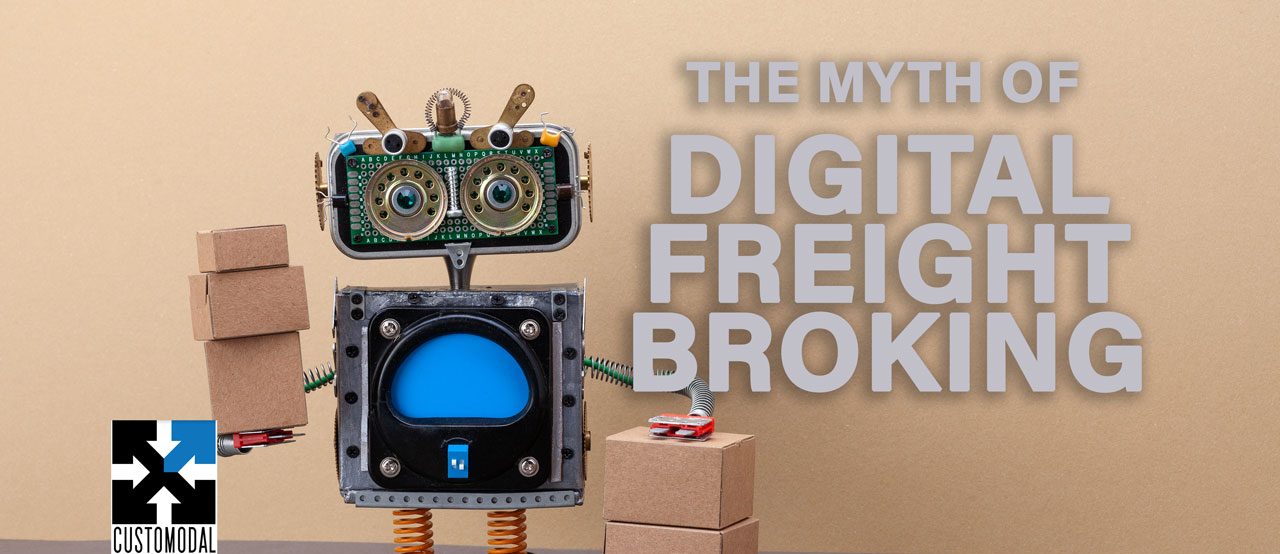 April 2, 2021
The Myth of Digital Freight Broking
Digital Freight Broking Myth Explained
Innovation and technology are important to any industry and logistics is no exception. As a 3PL, we are familiar with the ins and outs of freight forwarding. Digital freight broking is a newer term in the industry, and though it is something that sounds innovative – it is actually more myth than reality.
Let's back up: managing clients, carriers, drivers, and third-party logistics is no easy feat. Utilizing a third party logistics freight forwarder such as Customodal can help navigate this industry. We serve as the indispensable middleman to help your cargo get shipped in more optimized and profitable ways.
The term "digital freight broker" has been heard more in recent years and refers to an online "matchmaker" that connects shippers and carriers. Digital freight brokerages are online marketplaces that connect shipping entities and truckers via mobile apps.
Digital freight brokers typically utilize a mobile or online application with programmed algorithms to connect companies and truckers. Using artificial intelligence and machine learning, they make predictions about supply and demand to make the market more efficient.
This all sounds good, right? It is, but it's also not technically anything new. Traditional freight forwarders and brokers utilize technology like this in their businesses already. If they aren't, they are falling behind!
Digital freight broker mobile apps might seem "cool," but the real value of this service comes with the ability to interact with another human being. An oversimplified analogy would be comparing digital freight broking to Uber, while 3PL's are the traditional taxi. With the Uber app, the goal is to replace human tasks with efficient software to connect shippers and carriers directly. With Uber, a rider can connect directly with a driver through the app, choosing between price and service options. There is no need to call a cab company and request a ride. (Note that Uber is usually more expensive than a traditional taxi!)
Apps have their place, but the myth of digital freight broking is that apps are more efficient and more accessible. In reality, they are just as efficient as the actual companies (like Customodal) that use technology and invest in productivity-enhancing software. They are also less accessible than being able to work with a real person.
Utilizing the analogy above, Customodal is a cab dispatcher with the ability to access Uber tools. In short, it's the best of both worlds: human touch combined with powerful technology.
Digital freight broking apps provide predictive load offering technology and a trucker-centric approach, while also providing real-time updates to shippers. These are all services that a 3PL can provide using the same technology and adding the human touch.
Our Customodal team uses technology, relevant data, and valuable insights to optimize supply chain performance. We offer visibility and control over your company's entire supply chain, tracking shipments in real-time over the ocean, through the air, and across land. This allows your company to optimize transportation routes and inventory management, for starters.
Transporting freight is complex, which is why using a 3PL like Customodal is helpful. We provide our team with user-friendly, efficient tools so that they can provide the best service possible to our clients.