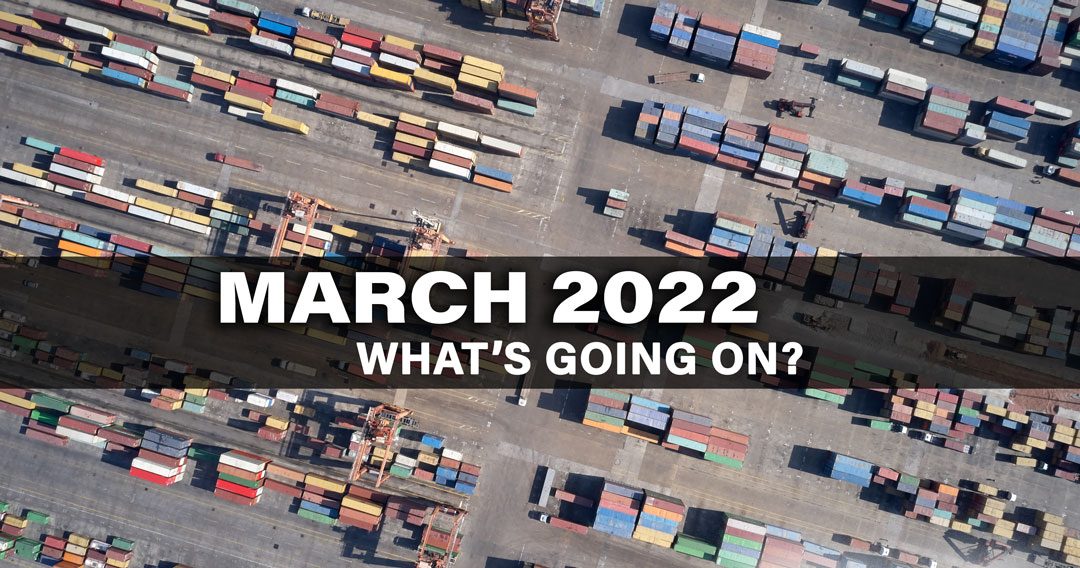 March 8, 2022
March Shipping Update
[et_pb_section fb_built="1″ theme_builder_area="post_content" _builder_version="4.14.4″ _module_preset="default"][et_pb_row _builder_version="4.14.4″ _module_preset="default" theme_builder_area="post_content"][et_pb_column _builder_version="4.14.4″ _module_preset="default" type="4_4″ theme_builder_area="post_content"][et_pb_text _builder_version="4.14.4″ _module_preset="default" theme_builder_area="post_content" hover_enabled="0″ sticky_enabled="0″]
Here's our March Shipping Update from Customodal! So much to look forward to in March! It's the official start of spring, beginning of Daylight Saving Time, the return of basketball's March Madness, and St Patrick's Day festivities. But the war in Ukraine, skyrocketing diesel prices, and continued shortages of materials and labor continue to occupy our attention.
The Fed will make its first interest rate increase at their next meeting mid-March.  This first step toward reigning in surging prices will start to dampen consumer demand as well as slow down financed purchases like homes and vehicles.  Before the spectre of war was on our radar, many had already factored in a series of interest rate increases for 2022 and remained bullish on the prospects for business growth in 2022.
However, rising fuel and energy costs have the ability to dampen our overall economy much more quickly, and more unpredictably than rising interest rates.  Rising energy costs add layers of drag to our economy because of their pervasiveness.  Whether fuel tops out at $5/gallon or $6/gallon depends on how long the war in Ukraine lasts.  But this short-term uncertainty makes the Fed's job of making medium term adjustments to the economy through interest rates harder and the possibility of inadvertent recession more real.
Other March 2022 Shipping Updates to Keep an Eye On:
At Customodal, we continue to work on behalf of clients to ensure freight transportation is a supply chain strength instead of a stumbling block.  We're busy everyday ensuring adequate capacity, good pricing, and cheerful logistics coordinators are ready!
[/et_pb_text][/et_pb_column][/et_pb_row][et_pb_row _builder_version="4.14.4″ _module_preset="default" theme_builder_area="post_content"][et_pb_column _builder_version="4.14.4″ _module_preset="default" type="4_4″ theme_builder_area="post_content"][et_pb_image src="https://customodal.com/wp-content/uploads/2022/01/customodal-banner1-web.jpg" _builder_version="4.14.4″ _module_preset="default" theme_builder_area="post_content" title_text="customodal-banner1-web" url="https://customodal.com/book-a-demo/" url_new_window="on" hover_enabled="0″ sticky_enabled="0″][/et_pb_image][/et_pb_column][/et_pb_row][/et_pb_section]